In order to get the look and feel of stone,
a sort of real clay which can be burnt or airdryed was used to cover the steps with.

Color doesn't matter at this stage.


| | | |
| --- | --- | --- |
| Pull away small lumps from you heap of clay. Adding the clay bit by bit helps to get a nice, irregular finish. It pays of to be brave and leave notches and edges instead of spreading it all very smooth. | | When the clay is spread out in a really thin layer, it will get cracks and fissures during the drying process. I learned that when I tried to make miniature pottery from that stuff... |

To make the steps look like large flat fieldstones, slightly press in your fingertip here and there. You should get clear elevations and roundish depressions. Don't make them too regular.(See picture above, right.) If you want your stones to look as if they have been hewed roughly, use a sculpting tool or the back of your fingernail and make short scrapes all over the surface. The effect can be seen in the picture below (I hope). If you want your stones to look as if they have been hewed and sanded, forget everything I have said about irregularity and smooth out the clay as even as you can.

In any case, as a final step take a soft toothbrush or stiff paintbrush and very very gently press it into the clay. Do that all over the clay surface. Don't do too much, as you might destroy the basic texture.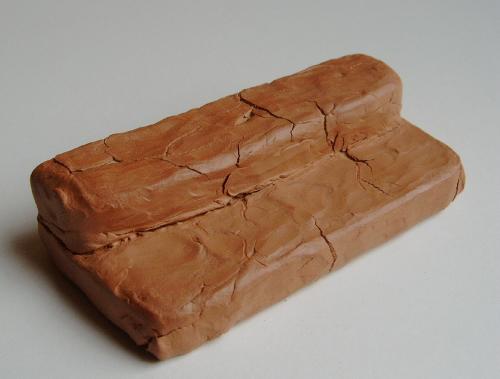 Click to enlarge

Almost dry.
Can you see the wonderful cracks? They look very natural.
You can of course also add some manmade cracks with some sharp tool or cover them with some fresh clay where you don't want them.

Fill gaps or cracks where the clay might come loose with a little white glue, wood glue or ceramic glue. But don't worry too much - the coat of acrylic colors will add stability, too.


Color

I used acrylic artist colors, miscelleanous brands.


Take out some of the colors of your choice or of those mentioned above.
For a base coat, mix white and paynes grey to a nice, rather dark stonish grey. Cover the entire structure with it. Do not dillute the color at that stage. The clay needs a firm coat.

Now you have a boring grey something. Let dry.